How to fix "Virtual Machine error code 32788"?
Summary- Today we will be discussing on Virtual Machine, corruption reasons, and techniques to fix Virtual Machine error code 32788.
Someday back I was going through my emails and I found one of my reader's emails with a question and the exact query was " how to resolve Virtual Machine error 32788″.
I guess many of us face this issue so, today I will be sharing with you the ways to resolve/fix VM error 32788. Before that let us understand what is actually a Virtual Machine.
What is a Virtual Machine?
Virtual Machine is basically a software program that behaves like a Virtual Computer. It runs on your (host operating system)and allows Virtual hardware to the guest Operating system. And the guest operating system runs as just another program on your computer.B ut these Virtual Machines are not error-free and if you have used it on your own then you must have encountered an error stating" failed to change state with error code 32788 on Hyper V" host while attempting to start the selected virtual machine right?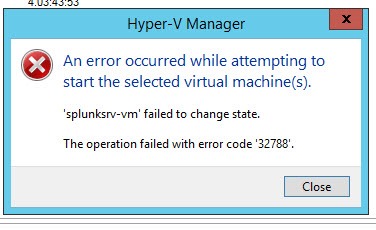 Now, what could be the possible reason behind this error 32788. Let's find out
Reason/Cause for "Failed to change State error code 32788 on Hyper V"
It may happen due to the conflict in Virtual Machine configuration if you have recently changed the name of a virtual switch and it is not yet properly configured in the Virtual Machine Settings.
How to Resolve Virtual Machine error code 32788?
Method 1
To fix this error follow the steps mentioned below:
Go to the Virtual Machine and open the settings of VM from Hyper V console
Now, go to Network adapter Settings option and a check is there any Conflict (Configuration error).

Change the Virtual Switch and attach the correct Virtual Switch.

Now Power on the Virtual Machine without any warnings.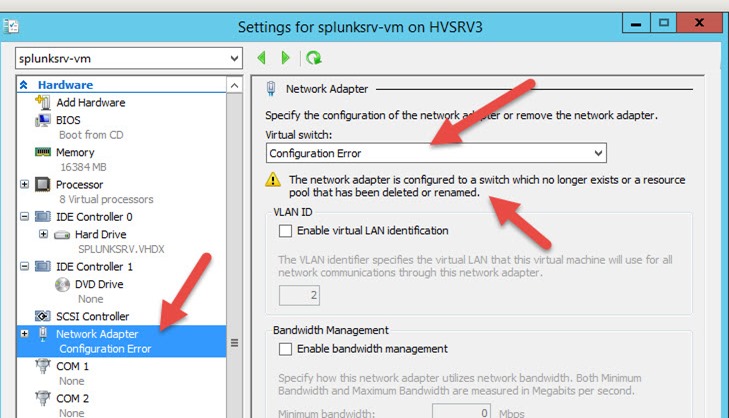 METHOD 2
The other thing you can do to decode VM error 32788 is
Just copy the Old VHD file on a separate path.

Now, generate a New Virtual Machine

On the user existing generate a new VHD file with the same configuration.

Now, power on the machine.

It will show the Virtual Machine as it is
USING AUTOMATED METHOD.
This is how you can resolve Failed to change state error code 32788 and if the above method didn't work for you then you should prefer automated method one of the preferred tools I know is the Virtual Machine Data Recovery Toolkit. I have used it on my own and it worked for me that is why I am suggesting to try this tool once, as it has many prominent features some of them are:
It is the ideal solution to recover corrupt VHD, VMDK, VDI and VMDK files.
Virtual Machine recovery toolkit supports MBR and GPT both the partition tables.
It has two modes of Scanning Standard and Advanced.
It supports all the famous standard files such as FAT, FAT16, FAT32, FAT64, NTFS, HFS+ and EXTX.
Users are allowed to add new custom value settings to restore missing or lost files.
CONCLUSION
So, I have described all the possible manual or automated techniques or ways to fix Virtual Machine error code 32788 for both the technical and non-technical users. Hope it helps.
You can also read: How to repair VHD file Manually