Repair VHD file manually- know here
Summary: Today from this blog I will be discussing with you all about the ways or methods to repair VHD file manually" and the reasons which can cause corruption in VHD files.
Are you annoyed with the corruption in VHD file and looking for a solution? If yes then you have come to the right place and this blog is for you because today from this article I will be discussing with you about the ways to repair VHD file manually so let's get started
What Is a VHD file?
As we know that VHD file stands for Virtual Hard Disk file it is considered as a file format which is used to represent virtual hard disk drive. It is also known as Virtual Machines and used for storing all the contents of hard drive be it disk partitions, file systems, boot record, other files, and folders, etc.
But these Physical drives are often prone to corruption and there can be various reasons behind this corruption. So, before jumping into the methods to repair the VHD file let us find out the reasons behind the VHD file corruption.
Reasons Or Causes behind the VHD file corruption
There are several reasons that can cause corruption in the VHD file and some of them are:
Virtual Hard disk file might get corrupted or damaged due to virus attack.
Due to the Antivirus Program
Avoid installing antivirus as they can interfere with the operations of Virtual Machines.
Improper shutdown of the system may corrupt VHD file so always, remember to shut down the system properly.
The VHD files may become inaccessible or damaged due to corruption or storage media failure.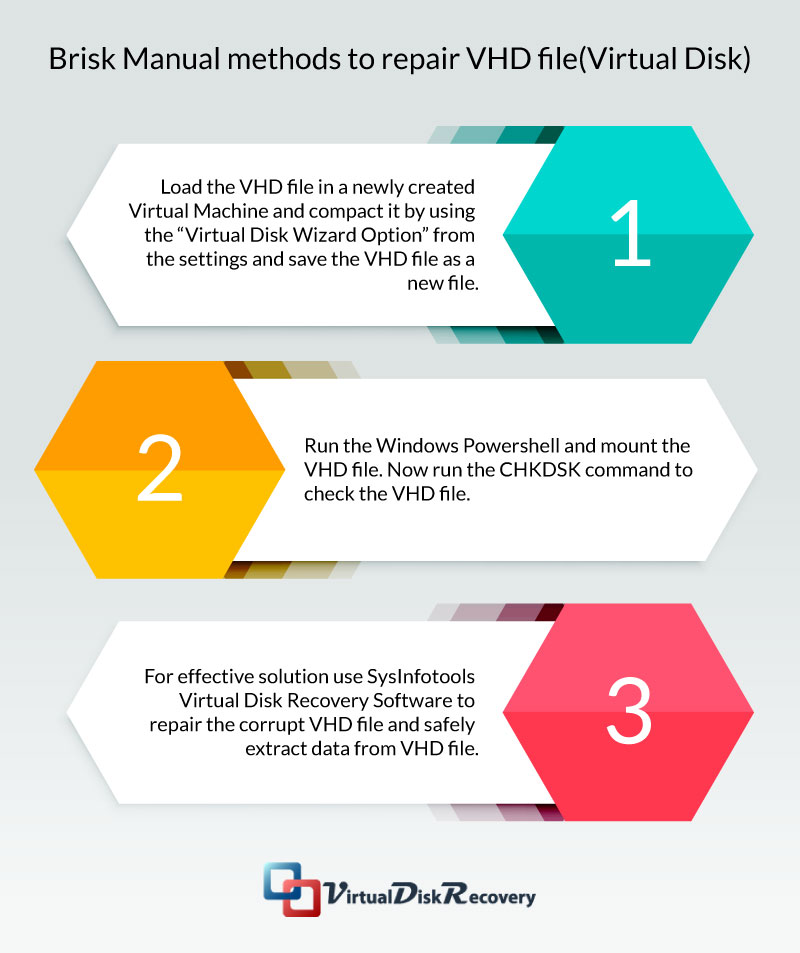 How to Repair or Fix VHD file(Virtual Disk)manually?
METHOD 1
To repair VHD file all you need to do is to generate Virtual Machine, then add a corrupt VHD file to it. Compact it.
Here are the steps to do so:
Generate a new Virtual Server, add a new hard disk

Click on the Setting Option, and choose the hard disk you have created before and then look for the VHD file that will not load.

Click on the "VIRTUAL DISK WIZARD OPTION" and then select the Compact button.

Remember to select the Convert it to a fixed-size Virtual hard disk option.

Now, save the VHD file as a new file.
After successfully revising the VHD file, copy the VHD file back to its original server and try to mount it.
METHOD 2
The next thing a user can do to repair a VHD file is to check the integrity of a VHD file. It is an efficient way to repair corrupt VHD file
Run a script on Windows Powershell which will help in mounting the VHD file in the root folder and after that user can run a CHKDSK on it. Now, run the commands mentioned below.
Note-User can change the details as per the requirement.
#First we choose what VHD we want mounted
$VHDName = "V:\serverx.vhd"
#Get the MSVM_ImageManagementService
$VHDService = get-wmiobject -class "Msvm_ImageManagementService" -namespace "root\virtualization" -computername "."
#Now we mount the VHD
$Result = $VHDService.Mount($VHDName)
AUTOMATED METHOD TO REPAIR CORRUPT VHD FILE
As everything has its pros and cons likewise using manual methods also have its own cons. For using the manual method you need to be pro in technical field and to avoid that Vdiskrecovery has come up with best and efficient recovery tool known as" Virtual Disk Recovery" it is used to recover and restore corrupt VHD files easily. Some of its prominent features are
It helps in recovery of complete data from Corrupt VHD files.
This VHD recovery software has three recovery modes; Standard, Advanced and
The VHD Repair Tool has its demo version for free download So, that user can evaluate its performance.
Also read: virtual machine error 32788
CONCLUSION
Through this blog, I have tried to describe the reasons behind corrupt VHD files and the ways or methods to repair the VHD file manually. For nontechnical users, I have mentioned a VHD recovery tool. Hope all these methods help.
If you any query regarding the same or if you know any other method to repair or resolve VHD file then kindly let me know In the comment section below. Till then Keep Reading.
Watch this video for using the tool