Learn How to Backup Hyper V Virtual Machine- Best Guide 2020
We all are aware of the increasing demands for virtual machines. Hyper V a Microsoft virtualization product enables the user to create and run virtual machines (a software instance of a machine). Hyper V is useful in many aspects as like helping in better utilization of the hardware, ensuring high availability, fault tolerance, and improving business continuity.
Whatever the platform may be the user is working on, he must take the backup of data so that it can be saved from any data crisis condition. Similarly for the Hyper V virtual machine, it is necessary to take data backup. Here, we will discuss all various methods that you can use to backup Hyper V virtual machine data and also a few key points that we should keep in mind while taking this backup.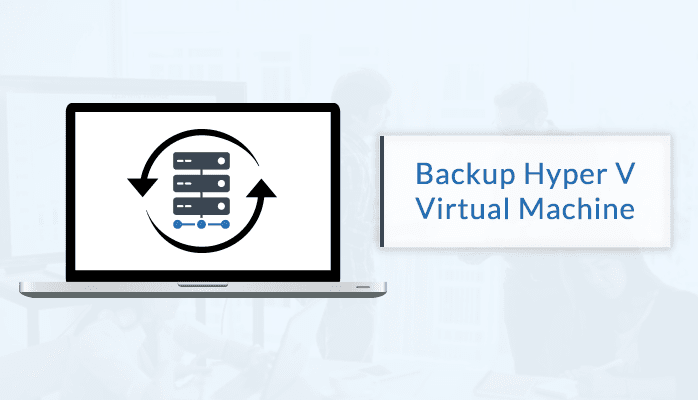 Methods to Backup Hyper V Virtual Machine
Let's start discussing the ways how to take backup of hyper v virtual machines.
Using System Center Virtual Machine Manager (SCVMM)
System Center Virtual Machine Manager (SCVMM) is a virtual machine management tool provided by Microsoft. Using this tool users can restore the Virtual Machine data whenever required. Restoring the data of a Virtual Machine will lead it to go to its previous state. However, System Center Virtual Machine Manager (SCVMM) is not free, user need to purchase it. It even allows taking backup of single files too.
But, we cannot completely rely on this method since it has high-risk factors and complexity attached.
Creating a copy of VHD files
VHD is the most common file format that Virtual machine uses. We can simply create a copy of VHD files. It is one of the easiest things that we can do to take a backup. But there is one drawback back attached to it that we can only backup data available at the time of copying.
Exporting can be done with the help of Hyper V manager which is an administration tool for Hyper V. Exporting the virtual machines can be one of the most effective ways to perform the backup in critical situations. However, there are many limitations while using this method and it can be complicated too for backing up hyper v virtual machines.
Third-Party Backup Solution
The best way to take the backup of a Virtual machine is to use a Third-Party Backup Solution. The Third-Party Backup Solution is an automated method to take a backup. The third-party tool provides a reliable solution as they are generally easy to use even for non-technical users and also provide usage instructions.
Also, Read- Merge Hyper-V Snapshots Manually

Key Points to Remember While Taking Hyper V Backup
We have discussed some easy and effective methods to backup the Hyper V Virtual machine. Now, we will discuss some basic guidelines that we should follow while backing up hyper v virtual machines.
Snapshots are good and useful for troubleshooting, performing a rollback, and many other tasks. But when taking backup in scenario they are not useful. We cannot depend on Snapshot for data protection and snapshot.

Sufficient CPU, Bandwidth, and RAM
Taking the backup of the Virtual machine is not an easy task, it requires a lot of processing, bandwidth and data scanning. So, it is advisable to have sufficient CPU, Bandwidth and RAM so that we do not face any problem.

Don't assign too many roles to a single machine
It is recommended not to assign to many roles to a single machine for keeping the backup process easy and uncomplicated.

Even if you have backup hyper v virtual machine data or creating data backup this may not be sufficient. It is advisable to keep three replicas of the data (1 original and 2 backup) and keep them at different channels like the cloud, local server, or offsite. But keep in mind to protect the files with proper encryptions.
VHD Files Get corrupted or damaged?
There is a possibility that while we backup the hyper v virtual machine, the VHD files may get corrupted or damaged even if there is a small mistake while performing the backup by the above methods. Then, in this case, you have had to use a VHD recovery tool that will help out. The tool is developed with highly advanced technologies that will ensure data security and try to recover maximum data.

Last lines
In this blog, all the possible methods to backup Hyper V virtual machines are covered along with some basic points that must be taken care of while taking the backup. Additionally, we have also covered how to recover from any case of VHD file recovery.